Facilities Rental – on hold for now
During our time of social distancing, St. James' is not renting space at our facilities. We look forward to the time when we can re-open for on-site events, meetings, and classes.
Parish Hall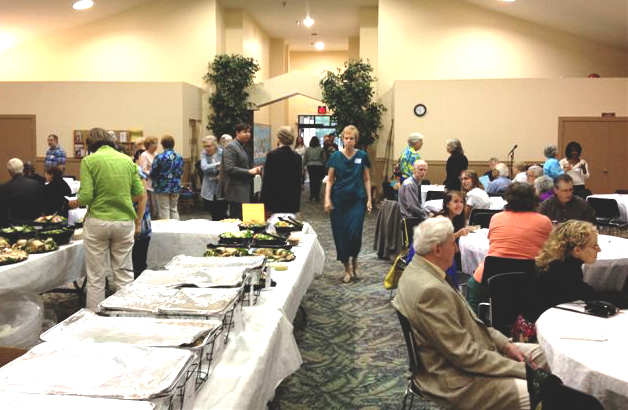 Our parish hall is available for rent for small functions or larger ones up to 200 persons. It is ideal for small or large meetings, wedding receptions, banquets, and dinners. A full commercial kitchen with dishwasher is conveniently located in the rear of the hall. The building is fully air conditioned. Tables and chairs are available. Parking is available for 150 cars. The entrance is easily accessible for all persons.
Meeting Room
A small private meeting room is also available at the back of the parish hall on the upper level. It has comfortable seats for 10 persons. This room is 25′ by 15′ and contains a VCR and large television.
Undercroft
The undercroft (lower level) of the church building is also available. This space is air-conditioned during warm months and also has a small kitchen. The flooring is vinyl tile and there are folding accordion walls that make the space very adaptable to specific needs. Two areas of the undercroft are available for rent:
The main space in the undercroft is a large square room that measures 38′ x 38′. A pull-down movie screen hangs on the north wall.
An auxiliary space in the undercroft is separated from the main space by a permanent wall. It houses the nursery and four classrooms used by our Sunday School. The classrooms are all separated by folding walls. With the folding walls collapsed, the space is an L shape about 31′ x 38′, with a 16′ x 16′ corner walled off with permanent walls to house the nursery.