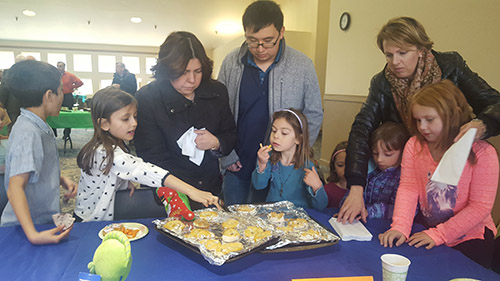 Our Sunday School is a time of fun, friends, and learning about God's love.
During our time of social distancing, St. James' continues to gather virtually for worship, discussion, Bible study, and more. We encourage families to use Faith at Home lectionary-based worship resources for children and adults worshiping from home.
Our Sunday School is a time of fun, friends, and learning about God's love. The curriculum used is
The Episcopal Children's Curriculum
. Crafts, songs, and service projects are woven in frequently throughout the year. Preschoolers through sixth graders are welcome. Middle and high schoolers are welcome to volunteer to assist the younger children.
We meet each Sunday in the undercroft – which is the downstairs of the church. Child care is provided by the Sunday School teachers from 9:15 a.m. – 10:30 a.m. so that parents or caregivers who wish to attend Adult Education classes may do so. Sunday School itself meets during the 10:30 a.m. worship service, and children rejoin their families in the church for communion. (Children are always also welcome to attend the full worship service with their families.)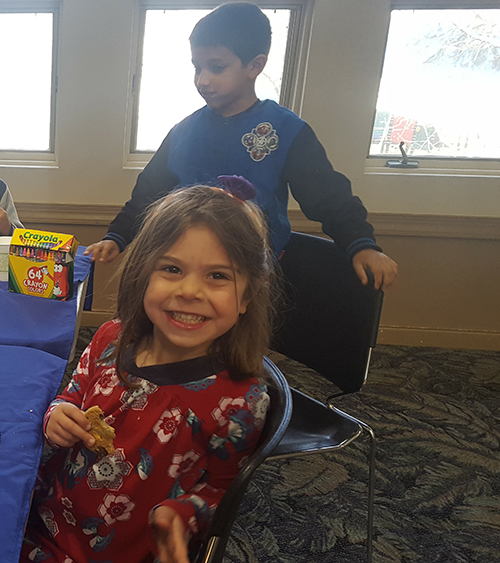 Gathering Time is from 10:15am-10:35am
Individual and small group activities are available as children gather for Sunday School. Coloring and puzzles are popular choices, along with seasonal games, reading picture books with a buddy, and other projects. Sometimes we play music in the background. As children arrive, they are greeted by a teacher and invited to join other children at small tables. Gathering Time accommodates families arriving at different times, helps orient children to the activities of the day, and allows the children to socialize with Sunday School buddies informally for a few minutes.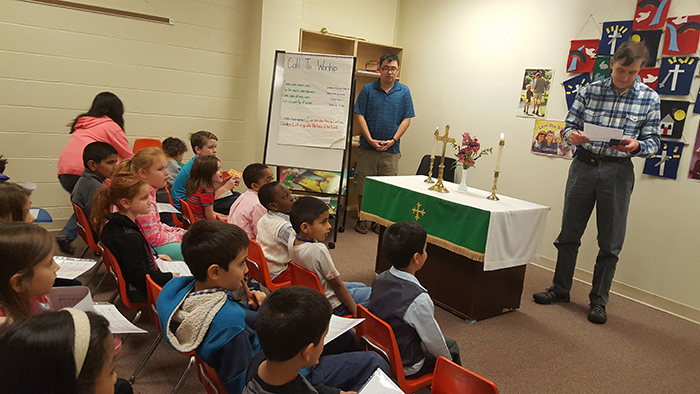 Children's Chapel 10:35am to 11:05am
Children take turns filling the roles of candle lighters (with adult supervision, of course!), ushers, and readers. Together we recite the opening creed, sing songs, read a Bible story or verses, and say a short prayer. The scripture is introduced and lesson of the day discussed during chapel. One new song is featured each month to allow everyone sufficient time to really learn it. To build our songbook, we began with some of familiar favorites; such as, "Jesus Loves Me," "This Little Light of Mine," and "B-I-B-L-E, That's the Book for Me." New songs continue to be added and old songs are revisited.
Small Group Lessons 11:05am to 11:30am
Children break into smaller classes for Preschool, Kindergarten-1st grades, and 2nd-5th grades. Each group has their own classroom, books, and materials that are age appropriate, and the opportunity to build friendships with others their age. Teachers present the scripture to the children using illustrated children's Bibles or storybooks. Alternatively, sometimes teachers help the children act out a story, or use puppets to demonstrate the point of the scripture. We encourage creativity, interactive discussions, hands-on activities, and movement (dancing, physical activity) to support learning. As such, each week the children complete an activity or project related to the day's lesson that is intended to reinforce that scripture and its relevance to our daily lives.
Special Events
In addition to Sunday School, our Children's Ministry plans several special events throughout the year for children and their families, including a fall hayride and bonfire, a Christmas Eve pageant, and an Easter egg hunt.
Volunteering
We love parent volunteers for Sunday School! Please connect with Marisol or James, our Children's Ministries co-coordinators to learn more. All volunteers must complete the Safeguarding God's Children training course before working with any children.
Nursery Care
Nursery care for infants and toddlers is available in the undercroft (the downstairs of the church). We have two paid nursery attendants who will play and sing with your littlest ones. Please ask an usher or greeter to show you to the nursery. All children are always welcome to stay with their parents in church if you prefer.